It's #Bundtamonth time everyone!  I am so excited!  I have become addicted to baking bundt cakes.  The thrill of seeing IF it pops out of the pan all in one piece keeps me on the edge of my kitchen chair!  This month's theme is citrus, and what better way to celebrate citrus than with a Tangy Key Lime Bundt Cake.
Ingredients:
Fine dry bread crumbs & Pam for Baking (for coating pan)
3 cups sifted all-purpose flour
2 tsps baking powder
1/2 tsp salt
8 oz unsalted butter, at room temp.
2 cups sugar
4 extra large or jumbo eggs
1 cup milk
Finely grated zest of 3 limes, preferably key limes ( I used more since they are small)
Glaze:
1/2 cup fresh key lime juice or 1/4 cup each lime & lemon juice
3/4 cup sugar
Directions:
1. Preheat oven 350 degrees, spray bundt pan with Pam for baking and dust with plain breadcrumbs
2. Sift together flour, baking powder, salt and set aside.
3. Beat butter till soft, gradually add sugar, beat 'till light & fluffy.
4. Beat in eggs one at a time, scraping down bowl after each addition.
5. On lowest speed, alternately add dry ingredients & milk, scraping bowl as nec. and beating just to mix each addition.
6. Stir in lime zest by hand.
7. Pour half the batter on one side of pan, half in other. Level top by briskly rotating pan back and forth.
8. Bake until cake tester comes out clean, about 1 1/4 hours. Let cool slightly on wire rack – 10-15 mins.
9. Stir lime juice and sugar together just to mix for glaze.
Place cake rack on tube pan and invert and place rack over foil. Using pastry brush, brush glaze all over warm cake until completely absorbed. Brush on any glaze that drips onto foil.
Let cake cool completely & transfer to cake platter. Let stand loosely covered for several hours or preferably over night. When ready, outside of cake will be completely dry.
Making my bundt, I was, once again, not prepared with whole milk.  Sheesh.  You would think I would just keep it in the house, but we only drink skim.  In the past I have substituted flavored creamer in a pinch, and it worked well.  This time I wasn't stocking a coffee creamer that would layer nicely with my key lime juice.  International Delight needs to get on that Mounds flavor asap (chocolate and coconut totally would have worked).
I ended up using skim milk.  Do not do this.  The cake has delicious tangy lime flavor all through the cake, but was a little dry.  With a cup of warm tea or it would be perfect for an mid-morning or afternoon break, as it is not an overly sweet cake.  However, I learned a good lesson on not to skimp on the fat content for a bundt cake.
Hindsight also being 20/20, I may have baked this cake a little longer than necessary.  I called it golden brown while I was glazing the cake, and I was quickly corrected by Baby saying "It's more chocolate brown than golden, Mommy."  I couldn't do anything by laugh.  She was right.  I found the recipe HERE from Chow, and I definitely want to give this one another try and see if I can do better.
Speaking of better…check out these beautiful (as well as delicious) other bundt cakes from the lovely bloggers participating this month.  I don't even know where to start!  They are all amazing!
Almond Clementine Bundt Cake
 by Carrie from 
Poet In The Pantry
Citrus Bundt Cake with Sparkling Wine and Fiori di Sicilia
 by Laura from 
The Spiced Life
Citrus Cocktail Mini Bundt Cakes
 by Renee from 
Magnolia Days
Citrus Lust Mini Bundt Cakes with Lemon Curd
 by Stacy from 
Food Lust People Love
Dried Tomato Cherry & Yuzu Cake
 by Ann from 
Anncoo Journal
Glazed Lemon Bundt Cake
 by Alice from 
Hip Foodie Mom
Grapefruit Poppyseed Bundt Cake
 by Deb from 
Knitstamatic
Grapefruit Yogurt Bundt Cake
 by Kate from 
Food Babbles
Lemon Bundt with Lemon Curd
 by Holly from 
A Baker's House
Mini Orange Bundts with a Grand Marnier Glaze
 by Tara from 
Noshing With The Nolands
Orange Chocolate Marble Bundt
 by Paula from 
Vintage Kitchen
Orange Olive Oil Cake
 by Katerina from 
Diethood
Orange Strawberry Swirl Cream Cheese Bundt Cake
 by Anuradha from 
Baker Street
Soaked and Glazed Lemon Cake
 by Dorothy from 
Shockingly Delicious
Zesty Lemon Bundt Cake
 by Anita from 
Hungry Couple NYC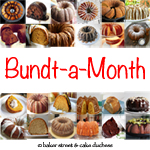 Want to join in the #BundtaMonth fun?
– Simple rule: Use mandarin, orange, citrus lime, yuzu, lemons, key lime or anything citrus – and bake us a Bundt for Tangy January
– Post it before January 31, 2013
– Use the #BundtAMonth hashtag in your title. (For ex: title should read #BundtAMonth: Chocolate Cinnamon Bundt)
– Add your entry to the Linky tool below
– Link back to our announcement posts.
– Follow Bundt-a-Month on Facebook where we feature all our gorgeous bundt cakes. Or head over to our Pinterest board for inspiration and choose from over 350 Bundt cake recipes.