Looking an easy group giveaway to join?  Check out the Last Minute Money FREE Blogger Event!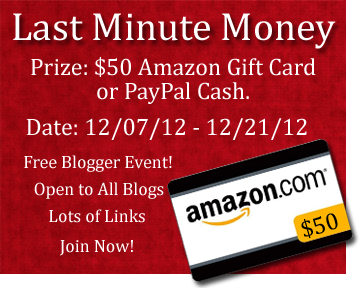 Giveaway Prize: $50 Amazon Gift Card or PayPal Cash.
Date: Friday Dec 7th 6pm – Friday Dec 21st at 11:59
One lucky winner will receive a $50 Amazon Card/Credit or PayPal Cash
To participate in this event go check and full details and requirements HERE!
For More Awesome Giveaway Updates, join their Facebook group: http://www.facebook.com/groups/thegiveawaygals/
Category: Blogger Opportunity
Happily married with two children, Karen does not hesitate to rebuff her family's hungry advances at mealtime, while she styles and photographs their dinner to share on Instagram before serving them. In The Kitchen With KP is full of family friendly adventures around Atlanta (and beyond), plus simple recipes everyone can feel comfortable trying. In fact, her whole family participates in the cooking/baking fun on a regular basis.