Super bowl may be happening this weekend, but Valentine's Day is on the horizon. I think back to when I was growing up, and one special memory from Valentine's Day was my Dad giving us each a small heart shaped box of candy. Go figure why I always associate Valentine's Day with chocolate. Thanks, Dad! 🙂
The #BundtAMonth team must think of chocolate too, because I am excited to share that it is the theme for our February linky! I had to go big or go home this month, so I went HUGE with my
Chocolate Peanut Butter Layered Bundt Cake.
A friend recently brought cupcakes into the office a few weeks ago, and they were so delicious I knew right away I wanted to try switching the recipe into a bundt. You can find the original cupcake recipe HERE. This cake is a little labor intensive with the dual batters, but trust me when I say it is completely worth the time and effort.
This cake bursts with peanut butter flavor, while the not too sweet, dark cocoa layer becomes the perfect compliment.   Coworkers first saw the inside and said, "Wow!  That's a lot of peanut butter."  I was quick to explain that what they thought was all peanut butter, was in fact, the baked peanut butter batter, made with cream cheese and the other ingredients.  This cake truly was phenomenal, and a must try if you, or anyone if your family is a chocolate and peanut butter combination fan!
If peanut butter is not your thing, but you love chocolate, check out the list of chocolate themed bundts being shared by the group this month!  I am pretty sure you will find at least one that makes your heart skip a beat.
Chocolate Berry Bundt Cake
by Heather from
Hezzi D's Books and Cooks
Chocolate Bundt Cake with Balsamic Strawberry Sauce
by Alice from
Hip Foodie Mom
Chocolate Chobani Bundt Cake
by Carrie from
Poet In The Pantry
Chocolate Espresso Bundt Cake
by Holly from
A Baker's House
Chocolate Mini Bundts with Matcha Flowers
by Kim from
Ninja Baking
Chocolate Raspberry Swirl Bundt Cake
by Anita from
Hungry Couple
Chocolate Rocky Road Bundt Cake
by Tara from
Noshing With The Nolands
Chocolate Turtle Bundt Cake
by Kim from
Cravings Of A Lunatic
Deep Chocolate Be Mine Bundt
by Stacy from
Food Lust People Love
Double Chocolate Swirled Bundt Cake
by Laura from
The Spiced Life
Chocolate Peanut Butter Layered Bundt Cake
 by Karen from
In The Kitchen With KP
Red Wine Chocolate Bundt Cake with Mascarpone Whipped Cream
by Kate from
Food Babbles
Sour Cream Chocolate Bundt Cake
by Renee from
Magnolia Days
Quadruple Chocolate Bundt Cake
by Dorothy from
Shockingly Delicious
Vanilla and Chocolate Marble Bundt
Cake by Anuradha from
Baker Street
White Chocolate Raspberry Bundt Cake
by Paula from
Vintage Kitchen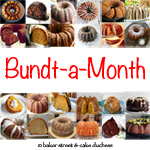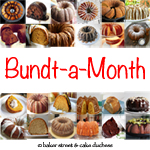 Want to join in and bake a bundt with the #BundtAMonth group?
Here's how you can be a part of Bundt-a-Month:
Simple rule: Use chocolate – and bake a Bundt for February
Post it before February 28, 2013.
Use the #BundtAMonth hashtag in your title. (For ex: title should read #BundtAMonth: Chocolate Cinnamon Bundt)
Add your entry to the Linky tool below
Link back to our announcement posts.
Follow Bundt-a-Month on Facebook where we feature all our gorgeous bundt cakes. Or head over to our Pinterest board for inspiration and choose from over 350 Bundt cake recipes.
Chocolate Peanut Butter Layered Bundt Cake #BundAMonth
Take the peanut butter-chocolate combo to new heights with layers of lusciousness in moist, irresistible cupcakes.
Ingredients
Chocolate Cake Batter
1½ cups Pillsbury BEST® All Purpose Flour
⅓ cup Hershey's® baking cocoa
1 cup packed brown sugar
1 teaspoon baking soda
¼ teaspoon salt
⅓ cup Crisco® Pure Vegetable Oil
1 cup water
1 tablespoon white vinegar
½ teaspoon McCormick® Pure Vanilla Extract
Peanut Butter Batter
1 LAND O LAKES® Egg
1 package (8 oz) cream cheese, softened
¾ cup Creamy Peanut Butter
⅓ cup granulated sugar
⅓ cup powdered sugar
Glaze
2 tablespoons of butter
¼ Cup of creamy peanut butter
½ Cup powdered sugar
2 tablespoons of milk
Instructions
Preheat oven to 350°F.
Spray bundt pan with Pam and coat generously with plain bread crumbs.
In large bowl, mix flour, cocoa, brown sugar, baking soda and salt. Add oil, water, vinegar and vanilla to flour mixture, stirring just until smooth (do not overmix).
In another large bowl, beat egg, cream cheese, peanut butter and granulated sugar with electric mixer on medium speed until smooth. Add powdered sugar; beat until creamy.
Drop large dollops of the peanut butter batter into bundt pan.
Pour chocolate batter over peanut butter batter dollops.
Drop remaining peanut butter batter in dollops around pan.
Cover with remaining chocolate batter
Bake 40 to 50 minutes or until toothpick inserted in center comes out clean (do not overbake).
Cool in pan 10 minutes.
Invert pan onto baking rack and allow cake to completely cool before topping with glaze.
Making glaze
Melt butter in small bowl
In separate small bowl microwave peanut butter until smooth, then mix thoroughly with melted butter
Add powdered sugar to butter mixture until consistency changes to thick paste
Add milk, stir thoroughly. Add a few more drops of milk if necessary to get the consistency you want.
Drizzle warm glaze over completely cooled cake
Allow glaze to cool and set for 5-10 minutes, then serve.