As I have gotten older, my tastes have changed from craving salty, crunchy snacks, to anything sweet. I have been enjoying letting my inner baker come out once in a while. My favorite thing to bake lately has been bundt cakes with the #BundtAMonth crew. We are given a theme for the month, and then we all go to town to come up with an awesome bundt cake.
This month's theme was tropical. When I think about tropical, palm trees, coconuts, and pina colada drinks with little umbrellas, come to mind. I decided to go with coconut, but take it a step further. What resulted was this decadent Chocolate Bundt with Coconut Cream Cheese Filling.
This cake was a unique combination of two recipes, and a little bit of modification from me. Baking is a science, so I try and stick as close to a recipe as possible. I have found my "wing it" attitude while cooking, does not work well with baking.
I started with the chocolate cake mixture from my Chocolate Peanut Butter Layered Bundt Cake. This batter is not overly sweet, but has a great fudgy texture (almost like brownies) when baked. Then I sweetened up the cream cheese filling recipe I found HERE From Vanilla Sugar Blog.  I also used a great suggestion from Vanilla Sugar Blog to use a mini cookie scoop for placing the filling in the pan.  I ended up with an awesome tunnel of coconut cream cheese filling through the whole cake.
Of course with my love of sweets, I end up taking the majority of any baked good to the office.  Personally, I don't think my coworkers mind too much. 🙂
If coconut isn't your first choice when you dream of tropical vacations, then you should head on over to check out all the other fabulous tropical themed bundt cakes for this month's #BundAMonth round up!
Chocolate Bundt With Coconut Cream Cheese Filling #BundtAMonth
Decadent and dense chocolate cake filled with sweet coconut cream cheese.
Ingredients
Chocolate Cake Batter
1½ cups Pillsbury BEST® All Purpose Flour
⅓ cup Hershey's® baking cocoa
1 cup packed brown sugar
1 teaspoon baking soda
¼ teaspoon salt
⅓ cup Crisco® Pure Vegetable Oil
1 cup water
1 tablespoon white vinegar
½ teaspoon McCormick® Pure Vanilla Extract
½ teaspoon coconut extract
Cream cheese Filling
1 Egg yolk
1 package (8 oz) cream cheese, softened
⅔ cup powdered sugar
1 ½ cup of sweetened coconut flakes
½ teaspoon coconut extract
Glaze
2 tablespoons of butter
½ Cup powdered sugar
1 tsp coconut extract
2 tablespoons of milk
Instructions
Preheat oven to 350°F.
Spray bundt pan with Pam and coat generously with plain bread crumbs.
In large bowl, mix flour, cocoa, brown sugar, baking soda and salt. Add oil, water, vinegar, vanilla, coconut extract to flour mixture, stirring just until smooth (do not overmix).
In another large bowl, beat egg yolk, cream cheese, and coconut extract with electric mixer on medium speed until smooth. Add powdered sugar and coconut flakes; beat until creamy well blended and creamy.
Pour half of chocolate batter into bundt pan
Drop small dollops of cream cheese mixture with small ice cream scoop on top of chocolate batter. Place the dollops close together to form a solid ring of filling.
Cover with remaining chocolate batter
Bake 40 to 50 minutes or until toothpick inserted in center comes out clean (do not overbake).
Cool in pan 10 minutes.
Invert pan onto baking rack and allow cake to completely cool before topping with glaze.
Making glaze
Melt butter in small bowl
Stir in powdered sugar until texture is almost crumbly in texture
Add milk a little at a time to butter/sugar mixture.
Add coconut extract to glaze mixture
Continue to stir until desired consistency for drizzling.
Mixture should be smooth and opaque.
Drizzle glaze over completely cooled cake
Sprinkle with additional sweetened coconut flakes if desired
Allow glaze to cool and set for 5-10 minutes, then serve.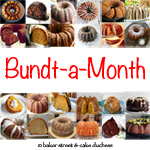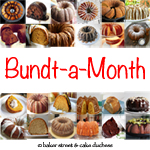 Here's how you can be a part of Bundt-a-Month:
Simple rule: Use a tropical ingredient – and bake a Bundt for March
Post it before March 31, 2013.
Use the #BundtAMonth hashtag in your title. (For ex: title should read #BundtAMonth: Chocolate Cinnamon Bundt)
Add your entry to the Linky tool below
Link back to our announcement posts.
Follow Bundt-a-Month on Facebook where we feature all our gorgeous bundt cakes. Or head over to our Pinterest board for inspiration and choose from over 350 Bundt cake recipes.