I love baking bundt cakes.  They just make me smile inside and out.  The multiple designed pans available, the unique flavor combinations you can create, and the beauty of a well drizzled glaze all come together in perfect harmony of happiness.
When I heard this month's theme for #BundtAMonth was cherries, I had to think of a new idea for my cake.  I opened the fridge and there was my inspiration…black cherry greek yogurt, and was resulted was an amazing
White Chocolate Black Cherry Yogurt Bundt Cake.
When I think of dried cherries, I usually picture my favorite salad or trail mix with nuts and white chocolate chips. I decided to follow this mental image, and complement the black cherry yogurt by adding white chocolate chips and dried cherries.
If you aren't already aware, adding greek yogurt into a cake recipe produces a wonderfully moist cake. Plus the moisture helped plump up the dried cherries in the baking process. Each bite of cake is filled with the sweet melted white chocolate chips with a burst of tangy sweetness from the dried cherries. This cake was definitely a winner in my book for being filled with flavor.
I'm glad I decided to try something new for this month's theme. I already thought my bundts were all starting to look the same, and now with this flavor combination, I definitely made something completely different, right down to the pink Wilton vanilla melts and glittery white sanding sugar.
Because a glittery cake with a little more white chocolate drizzled on top would be completely awful…said NO ONE EVER!
Now head on over to check out the rest of the #BundtAMonth crew's yumtastic offerings. You won't be disappointed.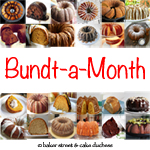 Want to participate too?
Here's how you can be a part of Bundt-a-Month:
Simple rule: Use any kind of cherries – and bake a Bundt for March
Post it before April 30, 2013.
Use the #BundtAMonth hashtag in your title. (For ex: title should read #BundtAMonth: Chocolate Cinnamon Bundt)
Add your entry to the Linky tool below
Link back to our announcement posts.
Follow Bundt-a-Month on Facebook where we feature all our gorgeous bundt cakes. Or head over to our Pinterest board for inspiration and choose from over 350 Bundt cake recipes.
Link Up Your Own Bundt!
White Chocolate Black Cherry Yogurt Bundt Cake #BundtAMonth
Ingredients
For the Cake
2 cups all-purpose flour
½ teaspoon baking soda
½ teaspoon salt
1½ cups granulated sugar
1 cup (2 sticks) unsalted butter, softened
3 large eggs
1 (8 ounce) container Chobani Black Cherry Blended Greek Yogurt
1 Cup Dried Sweet Cherries
1 Cup White Chocolate Chips
For the Glaze
½ Cup Wilton candy melts pink/vanilla flavored
Instructions
For the Cake
Preheat oven to 350° F.
Spray 10" bundt pan with Baking Pam and coat with plain fine bread crumbs
In a medium bowl, sift together the flour, baking soda, and salt. Set aside.
Add the butter and mix until light and fluffy; about three minutes.
Add and beat in the eggs one at a time
Alternately mix in the flour mixture and yogurt, mixing until combined
Gently fold in dried cherries and white chocolate chips
Pour batter into prepared pan
Bake in the preheated oven for 60 minutes, or until a toothpick inserted into the center of the cake comes out clean.
Allow to cool 5-10 minutes in the pan, then turn out onto a wire rack and cool completely.
Once the cake is cool, prepare the glaze.
To make the glaze
Microwave candy melts according to bag directions
Drizzle over cake
Let set about 15 min until icing sets, serve